Text of letter issued to TASC from National Grocers Co. Ltd. of 6 Monogram Place, Weston, ON, 246-7899, dated June 16, 1998
"It is our opinion that the laws of this Province consider Stores to be private property, where the public is admitted, upon invitation, for the purpose of transacting business. It is our further opinion that this invitation may be withdrawn at any time. The invitation for you to visit any of our Loblaws, No Frills, Supercentre, freshmart, valu-mart and Y.I.G. locations, is therefore withdrawn effective upon receipt of this letter.
Should you henceforth enter any of our identified Stores without first obtaining our permission in writing, we will consider having you arrested and charged and in addition we may seek civil damages."
Loblaws, Canada's massive grocery chain, was declared a corporate hypocrite by members of TASC in the late 1990s when it appeared that the corporation was profiting off of poverty. The corporate food chain refused numerous offers of dialogue on how it could actually end the root causes of hunger (such as Loblaws' own corporate greed, paying its executives multi-million dollar salaries, and supporting right-wing regimes whose social spending cutbacks created further poverty and hunger). Instead, it hired private goons to stalk us and brought out the constabulary on many an occasion to arrest the Easter Bunny, Santa Claus, Great Punmpkin and numerous others. To this day, all members of TASC are barred from entering the stores of any Loblaws or Loblaws subsidiaries across Canada. Listed below are links to press releases and flyers which were part of this campaign.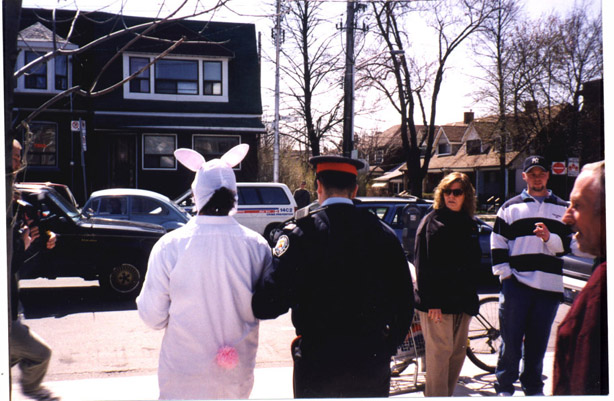 Easter Bunny gets hauled away after handing out
anti-hunger messages at Loblaws
---
FLYERS, POSTERS, PRESS RELEASES, AND TRIAL REPORTS FROM OUR CAMPAIGN TO TRANSFORM ONE OF CANADA'S LARGEST CORPORATE GIANTS